This is my review of the Amazon Dash. Dash is a new handheld Wi-Fi device by Amazon that you can use to scan the barcodes of items around your home (anything from yogurt to pens) and add them to your AmazonFresh shopping cart (AmazonFresh is the same-day scheduled delivery service for Amazon.com items and groceries). If you are not much into scanning, the Dash also has a microphone button for voice recognition – whatever you say gets added to your cart.
A few days ago, I received an e-mail from AmazonFresh inviting me to participate in the exclusive Amazon Dash trial and "be among the first users of an exciting and convenient new way to shop".  A 10-digit alphanumeric free trial code was included.
I am not sure what their qualification criteria were, but I am a PrimeFresh member, and I use Amazon quite often – 100+ orders placed in 2013, and 80+ orders placed in the past 6 months.  I mostly order groceries, office and shipping supplies, gifts and some personal toys like fountain pens and ink.
One day after I entered my shipping address and submitted my code, my Amazon Dash arrived.
Amazon has long enabled me to scan barcodes with its Android app, but I was never a big fan of this feature. I always found it a bit cumbersome to look for my phone, turn on the app, navigate to the barcode scanning feature, make sure that there's enough ambient light … it is much faster for me to just open up a browser and start typing the name of whatever I am looking for.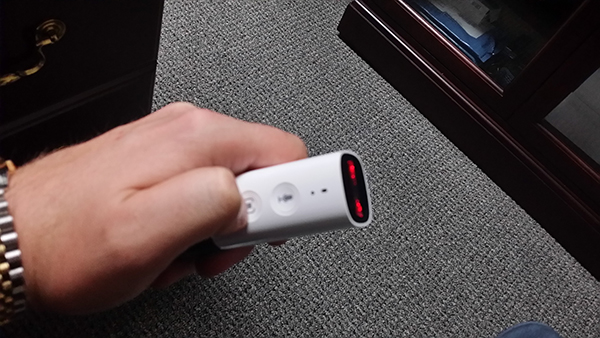 The Dash, however, makes me want to scan, scan some more and keep scanning. The second I press the "Scan" button, a red light is emitted that quickly (very quickly) scans any barcode. There is no more need to hold my arm steady and wait until the thing focuses. There is even no need for ambient light. I was successful in scanning and purchasing iced tea in complete blackout-curtain-induced darkness.
The voice recognition feature is equally impressive. You press the button, say something, and it instantly loads in your shopping cart on your desktop browser. Cool! Everything I said was instantly recognized and showed up in my shopping cart. I tried saying "Chobani Yogurt", "Milk", "Bananas", "Eggs" and "Solid Seller".  Of all the items on the list, the only item that was not recognized was "Solid Seller". It showed up as "Solid Cellar". Amazon, I forgive you. After all, you can't buy my blog on Amazon.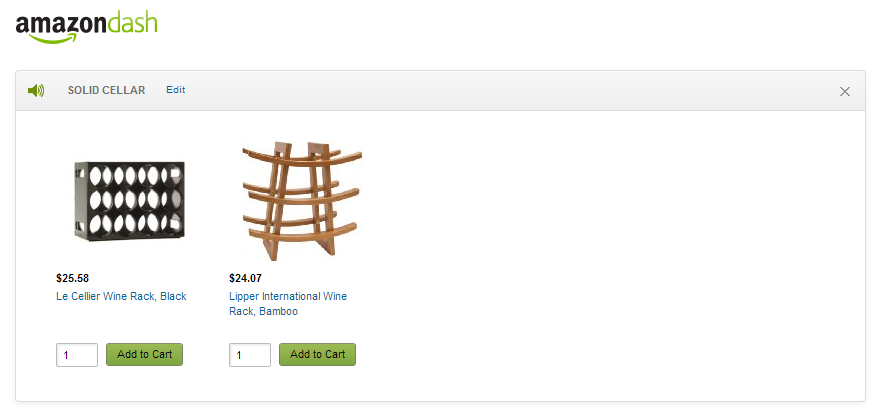 After you are done adding items to your cart, specifying quantities and adding a few additional items, all that is left to do is go through the simple checkout and pick the delivery date and time.
Quick Clarification: If an item you scanned is not on AmazonFresh, you will either get suggestions for similar items or a "not found" notification for off-the-wall barcodes (old SXSW conference ID badges, spray paint, codes not in the system, etc.)
In my opinion, the Amazon Dash is an exquisite device – one that really makes shopping for groceries and other household items easy. I keep it on top of my fridge and scan/speak whenever I run out of something. The scanning is effortless, the voice recognition is accurate, and the construction is quite solid. It doesn't seem to be a cheaply made item that barely flops along.
Why you should care: If you are selling a lot of the same items on Amazon, Etsy, eBay … or any other marketplace, now would be a good time to make sure that your items have traditional barcodes. They are not expensive to register (google "How to Buy a Barcode"), and they could be used a lot more in the future. Let's face it: QR codes were just a little too much for mainstream consumers. This, however, may be a game changer. As devices like the Dash (price point TBD) hit the shelves, barcodes could be the "it" factor for not only major retailers, but for online sellers like you and I. "Say and bid", anyone?  In fact, at least one other scanner is already out – it's called the Hiku …pronounced as Haiku…accessory. More could be out that I don't know about.
If this trend goes mainstream, you may want to make sure that your stuff on eBay, etc. has barcodes.
Follow solidseller